How to make chicken wings with barbecue sauce
BBQ Chicken Wings are an awesome game day appetizer, baked chicken wings smothered in barbecue sauce. Crispy inside and sweet and sticky on the outside!
Nothing quite says game day Appetizer Recipes like some piping hot, spicy Buffalo Wings, but not all fans can take that kind of heat. BBQ Chicken Wings are great for sharing and they have a milder flavor that even the littlest sports fans can enjoy.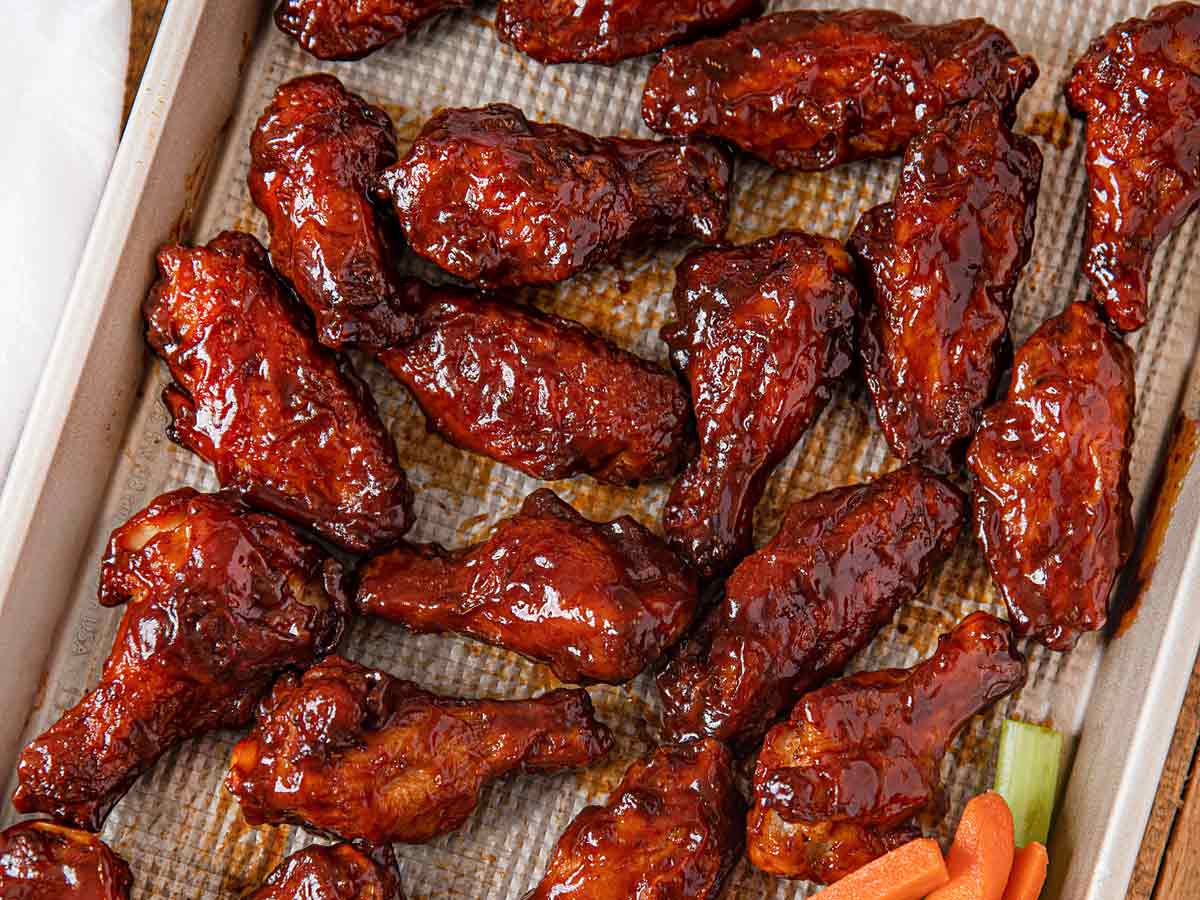 BBQ CHICKEN WINGS
They're crispy, they're rich, and they're smothered in BBQ sauce. BBQ Chicken Wings are the perfect appetizer to serve up with some cold drinks and nachos on game day, whether it's March Madness, the Super Bowl, or just Sunday Funday.
This wing recipe is super easy to make, and even though it has a long cook time, trust me, they are so worth it.
These BBQ Chicken Wings are great because you can adjust the sauce to make it hot, sweet, or even tangy with some mustard and vinegar. We like to make a big batch of wings, and sauce them three different ways so everyone gets the kind they like.
My recipe is for baked BBQ Chicken Wings, so you don't have to worry about deep frying them. This makes prep and clean up a breeze so you can spend more time with your guests and watching the game. While they are baking, I like whip up some Homemade Ranch Dressing or Honey Mustard Dressing, their tangy coolness pairs beautifully with these melt in your mouth wings.
So why are chicken wings also so tender and delicious? Part of it is in the sauce. BBQ sauce is slightly caustic and breaks down some of the tougher portions of meat, leaving you a juicy, fork tender wing that practically melts in your mouth.
HOW TO MAKE BBQ CHICKEN WINGS
Preheat oven to 375 degrees and line your baking sheet with parchment paper.
In a large bowl toss the chicken wings with the vegetable oil, salt and pepper.
Line up the chicken wings on the baking sheet in a single layer.
Bake until wings are crispy and browned for 50-60 minutes.
Remove the wings and add them to a large (clean) bowl.
Toss them with the barbecue sauce, then bake them for an additional 5 minutes.
MORE TASTY CHICKEN APPETIZER RECIPES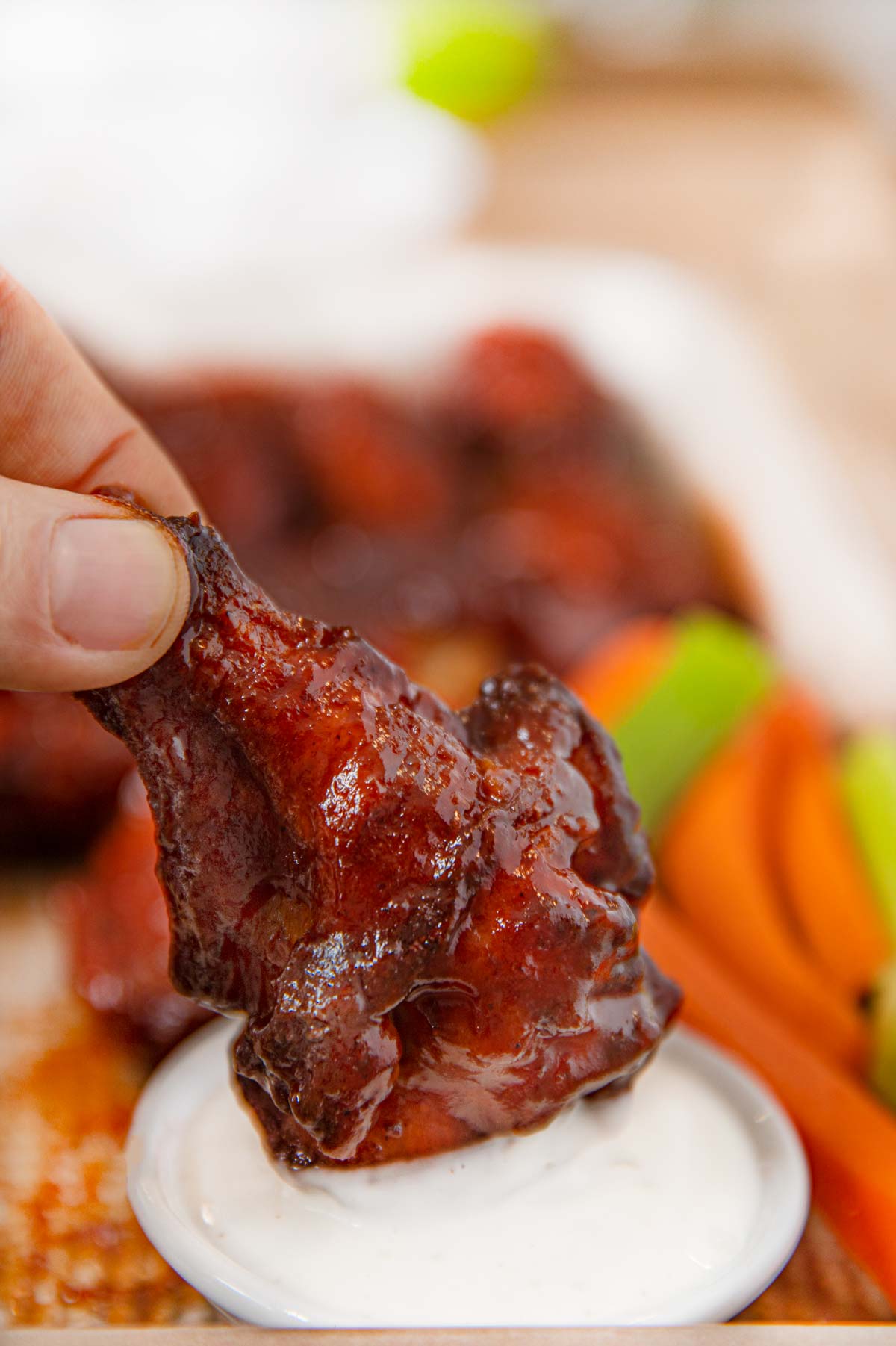 VARIATIONS ON BBQ CHICKEN WINGS
Spicy: If you want to try a spicy BBQ Chicken Wings recipe, stir your favorite hot sauce into your barbecue sauce before spreading over the wings for the final bake.
Honey BBQ: This recipes becomes easy Honey BBQ Wings just by adding a few tablespoons to a ¼ cup of honey to your BBQ sauce, depending on how sweet and tangy you like your wings.
Spices: The nice thing about BBQ marinades is that the flavor is easily changed just by mixing in spices or even other sauces. Play around by adding things like soy sauce, fresh garlic, dijon mustard, sweet chili sauce, chipotle in adobo sauce, etc to your BBQ sauce. So you don't waste a whole bottle of sauce, experiment with just a couple teaspoons of BBQ sauce until you find the flavor you like.
BBQ CHICKEN WINGS FAQS
How long does it take to make BBQ chicken wings? This recipe takes about an hour and 40 minutes to cook, plus an additional 5 to 10 minutes to prep.
What goes with BBQ chicken wings? Ranch is our favorite dip to serve with BBQ wings. Like BBQ sauce, you can add different spices to your ranch to better match your wings. For example, if you make Asian inspired BBQ wings, add some wasabi, a few drops of sesame oil, and ginger to your ranch for a dip that pairs perfectly.
TYPES OF BARBECUE SAUCE
The kind of sauce that is "true barbecue" varies person to person. While there are probably as many different versions of BBQ sauce as there are people in the US, there are four main bases for making Barbecue Sauce. Which one is your family favorite?
Tomato-Based Sauces: This is the most typical "grocery store" sauce you are going to see, with it's dark brown or red coloring that comes from a base of ketchup. Loaded with all kinds of different flavorings from smokey to sweet to spicy, this popular sauce goes well with pretty much any meat or BBQ dish.
Vinegar-Based Sauces: Vinegar lends a sour, tangy flavor to BBQ sauce. While vinegar based sauces tend to leave out tomato, they more than make up for it with spices and heat. North Carolinians love this sauce for pork and other fatty meats.
Mustard-Based Sauces: A lot of people know this as South Carolina style BBQ sauce, it is a sauce made from mustard (which gives it that signature gold color), vinegar, sugar and spices. Pork and chicken soak up this sauce well.
Mayonnaise-Based Sauces: Yup, mayo BBQ sauce. And this isn't the kind that is just mixing mayo with bbq. Commonly known as Alabama White Sauce, it's a thinned out mayo sauce loaded with seasoning and tangy flavor that's perfect for smoked chicken.
MORE EASY BBQ GAME DAY RECIPES
HOW LONG ARE BBQ CHICKEN WINGS GOOD?
Serve: Don't leave your BBQ Chicken Wings out for longer than 2 hours at room temperature.
Store: You can keep BBQ Chicken Wings in the fridge for up to 3 days. Keep them sealed in an airtight container or wrapped tightly in plastic wrap and allow them to cool down to room temperature before you put them away.
Freeze: You can keep your BBQ Chicken Wings in the freezer for up to 1 month. A good tip for keeping the wings from fusing together is to keep them layered between sheets of parchment paper.
WHEN ARE BBQ CHICKEN WINGS SAFE TO EAT?
Chicken is completely done and safe to eat when the internal temperature reaches 165 degrees F (73.8 degrees C), according to the USDA's Official Website.